Third Party Review of Environmental Documents
Environmental documents are only as useful as their data.  Third party review services at MSES ensures independent, rigorous, and data driven results.  
Our unbiased scientifically rigorous examination of development applications and reports helps you understand the potential impacts of a project and ensure that your questions and concerns are being adequately addressed.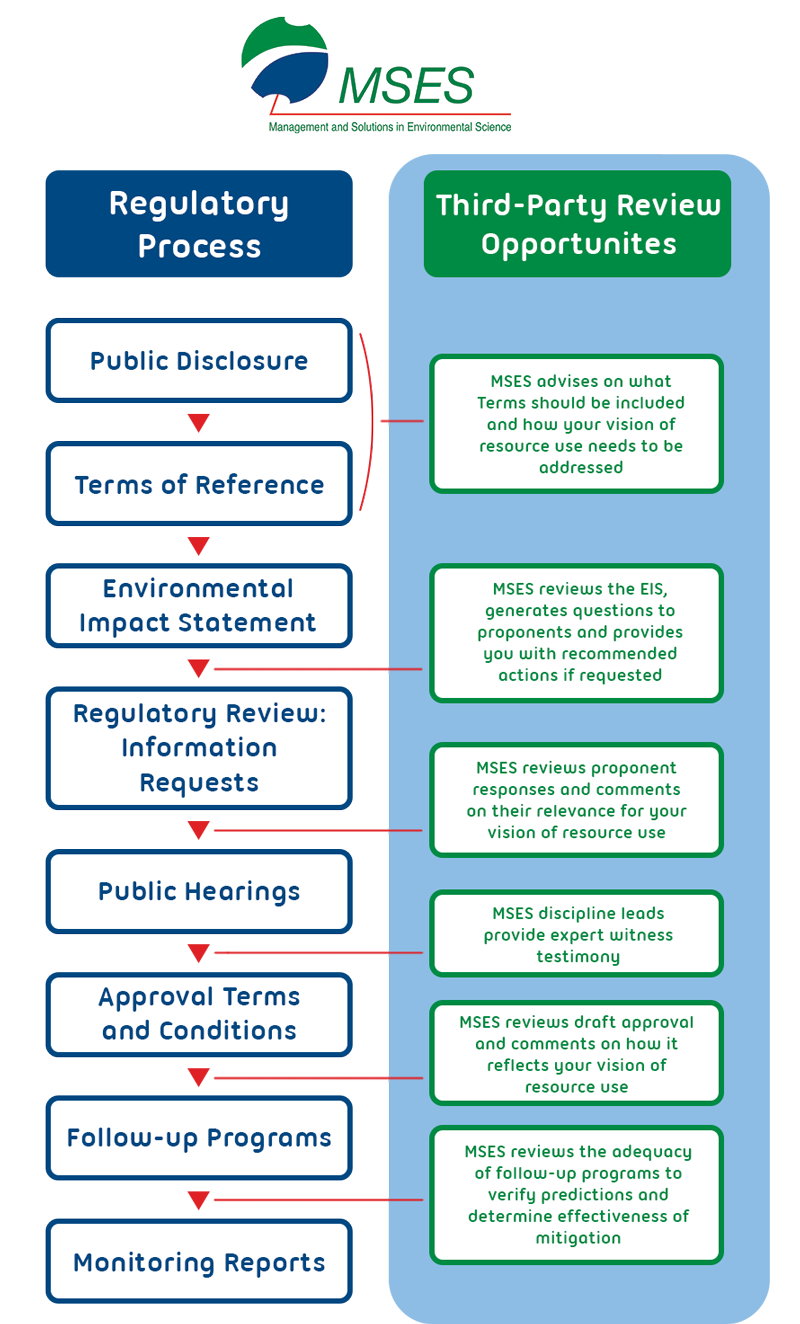 Environmental Impact Assessment
What is an Environmental Impact Assessment?
An environmental impact assessment (EIA) predicts the overall impact on the environment from a proposed project.  They are a vital tool used by decision makers, such as review boards, to understand the potential effects of a project on the environment when making land and resource-use choices. They are often comprised of several parts:
| | |
| --- | --- |
| Impact predictions: | The potential negative or positive effects of a project to the environment. |
| Mitigation measures: | Proposed measures to prevent or reduce those predicted impacts. |
| Mitigation impacts: | Evaluates what the environmental impacts will be after mitigation measures are implemented. |
| Follow-up programs: | Established to ensure all mitigation measures are implemented properly. |
Projects that would require an EIA are proposed pipelines, industrial developments, or any large project making a significant impact on its surroundings.  Click here to past projects for specific examples of EIA review that MSES has performed.
How can third party review help with an environmental assessment?
Environmental assessments and associated reports must reviewed for their completeness and scientific validity.   This process, known as a third-party review, ensures that decisions are based on the most accurate information.  EIA's are only effective tools if the data is accurate, rigorous, and independently reviewed.
Independence of the reviewer is important to ensure objectivity, and so the review is carried out by a third-party/arms-length organization.  This third party review will ensure that all data and conclusions that make up the EIA are accurate and defensible.
Since 2002, MSES has specialized in providing third-party reviews of environmental assessments on behalf of Indigenous communities, government, review boards, and interested stakeholders.  We firmly the best results can only be attained with the best information.
What is the MSES Approach to Third Party Review?
We specialize in communicating 'scientific' and 'technical' information in a way that is easy to understand. This ensures that our clients are informed of the potential environmental and social impacts of project, and can be involved in the decision-making process in a meaningful way. Below we provide comments from our clients regarding our presentation of technical information:
"Thank you for teaching me so much about the biology of the local area and the importance of connectivity. … I appreciated your diligence and support on Environmental Committee issues,… and you took the time to explain them in layman's terms." – Environment Committee in the Municipal District of Foothills, Alberta
"I… was so impressed by the thoroughness of your review, as well as the simple language you were able to use in explaining some complex elements of the… application. The report is very informative and accessible!" – Lake Ontario Waterkeeper
"The writing style is crisp and clean, the conclusions are clearly set out at the beginning of the paper and each section so that the reader is not left guessing, and I think the science is very solid. Great Job!" Prowse Chowne LLP, Alberta, Canada
We ensure that your questions and concerns are adequately addressed during land and resource use planning processes so that informed decisions can be made.
MSES examines the technical information provided by the proponent to identify knowledge gaps that may need attention when making decisions about land-use. This process ensures the questions and concerns of our clients are proficiently and accurately addressed during all phases of the environmental review process (Figure 1). Our extensive team of specialists is available to provide support in many subject areas (Figure 2). Our ability to meet the needs of our clients is illustrated in the acknowledgements we have received:
"You never lost focus of our issues and main concerns. Your analytical approach is the strongest tool that we ever had in addressing the volumes of technical information that industry and government expose us to…. Thank you for your objective and personable support." member of the Mikisew Cree First Nation
"… you have really left them in a super position on the wildlife matters. You also have a good appreciation of some of the practical issues for an aboriginal community and I have learnt from you! ….you can be sure I will be in touch!" Chamberlain Hutchison, Barristers & Solicitors, Alberta
Publications prepared by MSES on environmental assessments and their reviews include:
Komers, P.E. 2017. Science, Policy, and Indigenous Peoples. Environmental Science Program; invited speaker. Department of Biological Sciences, University of Calgary. March 2017
Belvederesi, C., Thompson, M.S., Komers, P.E. 2017. Canada's federal database is inadequate for the assessment of environmental consequences of oil and gas pipeline failures. Environmental Reviews. Published on the web 25 May 2017, DOI: 10.1139/er-2017-0003
Komers, P.E, A. Stewart, S. Gavin, S. Hechtenthal, T. Whidden and Z. Stanojevic. 2010. Participatory Management in the Canadian Oil Sands.  Proceedings of the 2010 IAIA Conference.
Whidden, T. and Komers, P.E. 2006. Environmental and Regulatory Best Management Practices. In: The CHOA Handbook, Published by: The Canadian Heavy Oil Association. ISBN 0-9695213-1-6. Printed in Canada. Pp. 67-144
Past Services Related to Environmental Impact Assessment Review